5 Myths About LGBTQ Parenting In Texas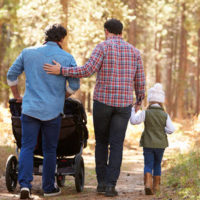 As social progress continues to be made for LGBTQ couples in Texas, many individuals have mistaken ideas and thoughts about LGBTQ parenting. Opponents of LGBTQ frequently often mistakenly claim that this type of parenting endangers healthy child development in several ways. In actuality, there are several significant myths that are perpetuated about LGBTQ parenting in Houston and the rest of the state of Texas.
Myth 1: Children Need A Mother And Father
While this is perhaps the most recited myth about LGBTQ parenting, studies actually reveal that the children of LGBTQ parents have the same outcome as children who are raised by a heterosexual mother and father. While some studies do show unfavorable outcomes for the children of single parents, there is no evidence to demonstrate that the children of LGBTQ parents are adversely affected in a similar way.
Myth 2: LGBTQ Parents Do Not Have Stable Relationships
Parents who identify as LGBTQ have relationships built on bonds the same strength as heterosexual couples, which means that these relationships are not any more nor less stable than other types of parenting arrangements. There is also some reason to believe that intentional family building by LGBTQ individuals creates a particularly strong home environment for a child to be supported and nurtured.
Myth 3: Surrogacy Is Narcissistic In Nature
A large number of LGBTQ individuals turn to surrogacy as a means to have children, but a myth exists that surrogacy is both a needlessly complicated and expensive way for parents to have children when there are many foster children who also need homes. Genetics, however, is not the only reason why many couples choose surrogacy. In the state of Texas, surrogacy is often the most direct path for LGBTQ individuals to ensure that they have exactly the same parental rights as opposite-sex parents.
Myth 4: The Children Of LGBTQ Parents Experience More Bullying
Studies have found no lasting psychological damage due to LGBTQ children who are bullied. Other studies have found that LGBTQ children experience no more anxiety or depression than the children of heterosexual households. There are studies, however, asserting that the children of LGBTQ parents are able to help children better respond to adversity, anxiety, bullying, or depression.
Myths 5: Being Raised By LGBTQ Parents Will Affect A Child's Sexual Orientation
LGBTQ identities are not the product of a disorder or illness. Sexual identity is a much more complicated equation than children simply inheriting the same gender and sexual identity as their parents. Many individuals are unaware that a large majority of individuals who grow up in an LGBTQ households end up identifying as heterosexual individuals in adulthood.
Retain The Services Of A Top Houston Family Law Lawyer
If you are an individual who identifies as LGBTQ and currently face any parenting issue involving child custody, child support, adoption, or any other type of family law issue, it can prove beneficial to retain the services of an lawyer who understands the unique issues and challenges that LGBTQ parents face. Feel free to consult with the compassionate and skilled Houston legal team at Lindamood & Robinson, P.C. today.
Resources:
apa.org/about/policy/parenting.aspx
mediamatters.org/research/2010/08/08/tony-perkins-fearmongering-about-same-sex-paren/168930