How Can Parental Alienation Affect A Child Custody Battle?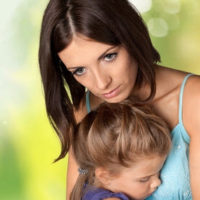 Child custody cases are never easy, but they can be exceptionally bad if one parent tries to use the children against the other parent. The Texas courts will always try to act in the best interests of the child and often try to be sure that both parents are involved with the children. However, if one parent tries to alienate the other, the court may view this as detrimental for the children and place the children with the other parent.
What is Parental Alienation? 
Parental alienation occurs when one parent attempts to negatively affect or ruin the relationship that the children have with the other parent. If a parent is demeaning to the other parent near the children, the children will sometimes develop the same negative feelings toward their other parent.
On occasion the parent that is being demeaning doesn't even realize they are doing it, but other times it is a purposeful attempt to get the children on their side of a custody battle. Parental alienation puts stress on the child-parent relationship and often causes social and emotional turmoil with the child. These conflicts can last into the adulthood of the child.
Signs of Parental Alienation 
To combat parental alienation, you have to recognize the signs of when it is taking place. These signs may include the following:
Your child is insulting or disrespectful to you, especially when the other parent is present.
Your child destroys gifts, mail, or other items that you have given them.
Your child refuses to have contact with you or see you.
Your child imitates their other parent's behaviors and words.
Your child always talks positively about the other parent and acts as if they are always right.
Your child acts negatively towards your extended family.
You child asks questions about or discusses situations that happened between you and their other parent that occurred when the child wasn't present.
Your child makes exaggerated or inaccurate statements that claim neglect or abuse by you.
If you notice any of these signs and are in the middle of a custody battle, you need to inform your attorney so they can take the proper steps to protecting you and your child from these troubling actions.
What Can Be Done About Parental Alienation? 
Parental alienation may affect the outcome of your custody case, so it is important to act quickly. Here are a few steps that you or your attorney may be able to take if you suspect parental alienation is taking place:
Have mental health experts analyze and assess the situation and give testimony.
Seek modification of custody so your child is in a neutral environment.
Enforce custody arrangements so you continue to have contact with your child even if they refuse.
Ask the courts to order therapeutic intervention to attempt to resolve any underlying issues.
Seek appointment of a parental coordinator.
Seek Legal Assistance if You Suspect Parental Alienation 
If you believe that parental alienation may be taking place, you need experienced legal representation to get it stopped before it is too late. Contact the Houston attorneys at Lindamood & Robinson, P.C. today to schedule a consultation.