Advice For Divorce Mediation in Galveston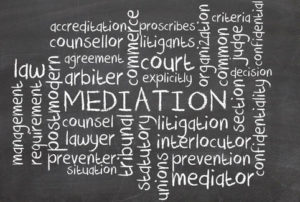 Having a detailed and thought out plan proves helpful for many individuals who have decided to initiate a divorce proceeding. Many couples decide to utilize mediation as a means of resolving matters with a former spouse because mediation helps former couples avoid the substantial time and energy of having to participate in more formal court proceedings. Mediation is a legal process that includes two parties, often represented by legal counsel, meeting with a neutral third party in an effort to resolve the case. Because mediation often includes making many substantial decisions, it is important for individuals in Texas who have decided to use mediation to remember some essential information concerning the mediation process.
How the Mediation Process Works
In the state of Texas, divorce mediation frequently involves a method in which parties are kept in different rooms and the third party negotiator moves between rooms. If mediation will occur in the same room with a former spouse, it is a wise idea for both couples to be aware of this fact to avoid or limit any particular tension that might arise from such a situation.
Mediation Is A Better Process For Any Involved Children
When custody issues are heard in a court of law, children frequently feel that they are trapped in the middle of things. Research demonstrates that parents who utilize mediation tend to maintain better long-term relationships with any involved children.
Mediation Requires Agreement Between Former Spouses To Be Successful
In order for mediation to work successfully, it is essential that both involved parties act reasonably to reach a final settlement. In many situations, emotions tend to run high after a divorce and can interfere with the ability of individuals to reasonably negotiate. Parties should discuss the potential for negotiation and the many substantial decisions that are likely to be made during the process in order to determine whether each party will be able to use the mediation process successfully. In preparing, each party should also review with legal counsel how the mediation process works and the various issues that are likely to be discussed during the process. Legal counsel often proves essential in helping clients prepare a list of preferred end goals and agreeable alternatives in case negotiation must occur.
Negotiation Should Be Thorough
During mediation, former spouses want to avoid ambiguously resolving any issues. Instead, the negotiation process should be thorough and avoid incomplete agreements on any topic. Investing the time to ensure that each topic is thoroughly negotiated helps couples later avoid the time and expense of having to litigate the issue in a court of law. In practicing a thorough approach to mediation, couples should also make sure to understand the entire mediation agreement before signing the document to avoid accidentally agreeing to any term that might not be readily noticed or mistake that might have been included in the document.
Mediation is often an excellent way for former spouses to resolve issues concerning a divorce. Obtaining the assistance of seasoned legal counsel at Lindamood & Robinson, P.C. in Houston can help individuals obtain the many beneficial elements of successful mediation, particularly the time and stress involved with trial.