Are All Texas Fathers Guaranteed Legal Rights to their Children?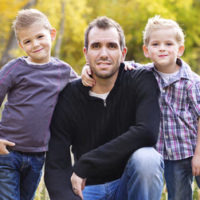 Families are made out of all sorts of situations, which is why Texas has laws that address the many different shapes and sizes of families in the state. This includes families where the parents are unmarried and have children.
When married parents have a baby, the law automatically recognizes both parents as legal parents, but that isn't the case when the parents of a child are unmarried. When a baby is born to parents who aren't married, the law doesn't recognize the biological father as the legal parent of the baby. This means that the biological father, if he isn't married to the mother of the child, doesn't have any legal rights to the child until he becomes recognized as a legal parent.
Establishing Paternity
Unmarried parents who both want to have legal rights to their child must first establish paternity. There are two options to determine paternity under Texas law:
Voluntarily Sign an Acknowledgement of Paternity or AOP – If both parents agree on the paternity of the child they can sign an agreement establishing paternity. A legal action can also be done through the court called a Petition to Adjudicate Parentage. This is a court order to establish the relationship between the child and father. These methods work when both parents work together to play an active role in the life of their child.
Disputed Paternity – If the father disputes or denies the paternity of the child, paternity can be established through court proceedings and the filing of a Petition to Adjudicate Parentage. This petition is resolved when the father appears in court and states he is the father of the child or genetic testing is court-ordered to confirm the paternity of the child.

Custody Rights and Visitation Schedules
Once paternity has been established, the parents will then work together to determine parenting arrangements and schedules. Arriving at a solution amicably is beneficial for all parties involved but can be reached through court order when a solution cannot be reached between the parties. Typically, both parents will have the right to spend time with their child and have frequent contact with them; be able to act as a parent and play a role in the child's upbringing; be involved in making decisions regarding medical care, education, religion, and welfare of the child; have access to medical, school, and other records for their child; attend school activities; and provide for financial, emotional, and physical needs of the child.
Contact an Experienced Unmarried Child Custody Attorney
Parents who are not married typically face issues that their married counterparts don't have to face. These issues may include proving paternity; ensuring benefits for the child such as insurance, parental rights, and government benefits; choosing a last name; and claiming the child at tax time are some of the most common issues unwed parents face.
When it comes time to navigate through these decisions, discussing your options with an experienced attorney can help make the process much easier. The attorneys at Lindamood & Robinson, P.C. in Houston have years of experiencing helping clients just like you. Contact us today to help ensure that your child is taken care of and your rights as unwed parents are protected.
Resources:
statutes.capitol.texas.gov/Docs/FA/htm/FA.153.htm
texasattorneygeneral.gov/files/cs/Paternity_CSandYou.pdf