Can A Child's College Expenses Be Part Of Child Support In Texas?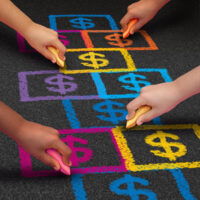 It is no secret that college is expensive. According to data from U.S. News and World Report, the average nationwide annual cost of tuition at public in-state school is $10,338. At private schools it is an astounding $36,185. Room, board, and textbook add even more costs. For many parents, planning for a child's college education is an important step. Divorce can make things complicated.
You may be wondering: Can college costs be part of child support? In Texas, the answer is generally 'no'—though parents can reach a voluntary (binding) agreement if they choose to do so. In this article, our Houston child support attorney provides a comprehensive guide to the most important things to know about college expenses and child support in Texas.
Texas Law: College Expenses Not a Child Support Obligation 
In some states, there are specialized rules and regulations in place that can make it mandatory for a parent to contribute towards a child's college costs in certain circumstances. However, in Texas, child support obligations will not include any college expenses. A non-custodial parent's obligation to provide child support extends to a child's 18th birthday or when they graduate from high school—whichever occurs later. A parent is not legally required to contribute towards college expenses as part of their child support obligations.
Divorcing Parents Can Reach a Voluntary Agreement on College Costs 
Although child support for a kid's college expenses cannot be mandated under Texas law, that does not mean that divorcing and divorced parents are without options. You and your co-parent can enter into a voluntary agreement regarding a child's college expenses either during or after your divorce. A voluntary agreement that is made as part of a divorce or separation can be upheld as a legally valid contract in Texas. If you have questions about this type of agreement, our Houston family lawyers are available to help. 
College Savings Should Be Carefully Handled During Divorce Proceedings 
If you and your spouse saved up money for a child's college prior to divorce—whether in a tax-advantaged 529 savings account or in any informal manner—it is imperative that those college savings are carefully handled during the divorce process. Collective college savings are subject to the Texas Community property laws. This means that they are the jointly held property of both spouses. In negotiating a property division settlement as part of your divorce, it is important to make preparations for your kid's college savings, including ensuring that all money and assets already savings are fairly divided and properly protected. 
Speak to Our Houston, TX Child Support Lawyer Today
At Lindamood & Robinson, P.C., our Houston family lawyer has extensive experience handling child support cases. If you have any questions or concerns about college expenses and child support, we are more than ready to protect your rights and interests. Give us a call now or send us a direct message to set up your completely confidential case review. From our Houston law office, we handle child support cases in Harris County and throughout the surrounding area in Southeast Texas.
Source:
usnews.com/education/best-colleges/paying-for-college/articles/paying-for-college-infographic