Can My Text Messages, Emails, or Other Digital Files Be Accessed in a Divorce?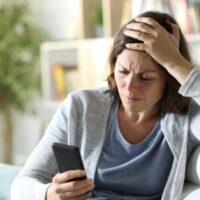 We live more and more of our lives in the digital realm. Your text messages, your emails, your social media accounts, and other types of digital files are sensitive. They often contain very private information. You may be wondering: Can your spouse access this information as part of a divorce case? The answer is "yes—or, more accurately, your spouse may be able to get access to digital records through discovery in divorce litigation. Within this blog post, our Houston divorce attorney explains the key things that you need to understand about text messages, emails, and other digital files/communications in a divorce.
Understanding Discovery and Divorce in Texas
 Divorce litigation in Texas involves a wide range of pre-litigation procedures, including a process that is known as "discovery." As the American Bar Association (ABA) explains, discovery "enables the parties to know before the trial begins what evidence may be presented." In effect, it grants parties to a lawsuit—including divorce litigation—the right to access and review certain evidence held by the counterparty. Discovery can include things like bank statements, employment records, and in some cases, digital files such as emails and text messages.
 Text Messages, Emails, or Other Digital Files May Be Turned Over in Divorce 
Our lives have become intertwined with technology. Electronic data is often relevant information, including in divorce cases. In Texas, text messages, emails, and other digital files can indeed be considered as evidence in divorce cases. Among other things, can include communications related to financial transactions, affairs, or any behavior that might affect a judge's decision on matters like child custody or division of marital assets.
If one party believes that the other party's digital data may contain relevant evidence, they can request the court to compel the disclosure of such information during the discovery process. Notably, there is some balance for privacy rights. A Texas judge will generally only compel one party to turn over certain records to the other party—including spouses in a divorce—if there is good reason to believe that the records in question may lead to the discovery of admissible evidence.
 Divorcing Couples Have Considerable Discretion to Settle a Divorce Outside of Litigation 
It is important to emphasize that discovery is a tool of litigation. Parties can voluntarily exchange information and settle their issues through mediation or collaborative divorce methods. Alternatively, spouses that are on relatively good terms can generally agree that they have all of the information that they need and that there is no need to seek each other's personal digital communications. No matter your situation, a Houston divorce lawyer can help.
Speak to a Divorce Attorney in Houston, TX
At Lindamood & Robinson, P.C., our Houston divorce lawyer invests the time, resources, and attention to detail to protect your best interests. If you have any questions about discovery and the divorce process, we are here as a family law resource. Give us a phone call now or connect with us online to set up your completely confidential initial consultation. From our Houston office, our firm handles family & divorce matters in Harris County and throughout all of Southeast Texas.
Source:
americanbar.org/groups/public_education/resources/law_related_education_network/how_courts_work/discovery/