Divorce Filings Dropped Nationwide In 2020—But the Effect May Be Temporary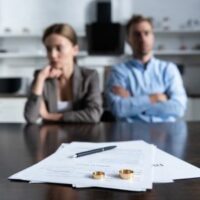 According to recent reporting from The New York Times, the total number of divorces filed in the United States fell dramatically in 2020. Almost certainly a consequence of the COVID-19 pandemic, many experts believe that the fall in the country's divorce rate will be temporary. In this article, our Houston and Galveston divorce attorneys provide an overview of the preliminary data for 2020 and discuss the long term trends in marriage and divorce.
Fewer Divorces Were Filed in 2020—Likely a Consequence of the COVID-19 Pandemic
Reviewing the preliminary data from counties across the United States, journalists from The New York Times found a consistent drop in divorce filings in 2020. When compared to 2019, most U.S. counties saw between 10 percent and 25 percent fewer divorce filings. Notably, the early data from several counties in Southeast Texas suggest a sharp decline in divorce filings in spring of 2020 and somewhat of a return to "normalcy" in the second half of the year.
On the surface level, a decline in the divorce rate seems like good news. Unfortunately, the reality is far more complicated. Financial strain and general uncertainty likely temporarily limited divorce filings. As a family counseling expert cited in the report explained, "so many negative things are currently happening that people are afraid to change the status quo, and are staying married." With this reasoning in mind, many people expect the divorce rate to jump significant in 2021 and 2022. 
A Gradual Long-Term Decline in the Divorce Rate 
The Texas Department of State Health Services estimates that our state's divorce rate peaked in 1979. During that year, nearly 100,000 couples separated in Texas. Since that time, the Texas divorce rate has fallen sharply—in 2019 it was 50 percent lower than it was just four decades earlier. Despite a sharp increase in the state's population, fewer couples got divorced in Texas in 2019 than did in any year in the 1980s or 1990s.
The gradual long-term decline in the number of divorce cases is generally good news. On the issue, that data from Texas is consistent with the nationwide data. A significantly lower percentage of American couples are getting divorced now than did two or three generations ago. At the same time, the picture is somewhat more complicated than it might appear at first glance. The primary issue is that marriage rates are falling as well. About one-third (31 percent) of Texans between the age of 25 and 50 have never been married. In 1980, that number was closer to ten percent. 
Get Help From Our Houston and Galveston Divorce Lawyers Today
At Lindamood & Robinson, P.C., our Houston and Galveston divorce attorneys are focused on providing exceptional, effective representation to people and families. Contact our firm to schedule a fully confidential initial discussion with a lawyer. We provide family & divorce legal services throughout all of Harris and Galveston Counties.
Resource:
nytimes.com/2021/03/24/style/divorce-rates-dropping.html