Fools Rush Out – Important Steps You Need to Take to Strengthen Your Post-Divorce Future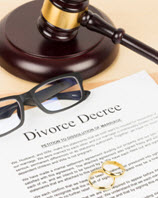 Going through a divorce can be an emotionally-draining and traumatic experience. Your life will be changed dramatically once the divorce is finalized. Fortunately, there are proactive steps you can take prepare for the separation and reduce the amount of stress and anxiety be preparing for your post-divorce future. Below is a series of recommended steps you should take when preparing to get divorced and starting a new chapter in your life. 
Step No. 1 – Get a Copy of Your Credit Report from the "Big 3" Credit Bureaus
Having a detailed credit report will be a tremendous asset in assessing your financial health. It is important because it is quite common to discover your spouse used your name to open lines of credit and secure loans. Obtaining a copy of your credit history can assist you in identifying this type of suspicious activity and potentially unknown accounts. 
Step No. 2 – Open Your Own Checking Account
It is quite common for married couples to have their finances intertwined in a single joint bank account. This makes sense when you are married, but can cause serious issues in the midst of a divorce. For example, it is not uncommon to discover your spouse attempting to drain the contents of your joint checking account to gain leverage over you during the divorce. This is why it makes sense to open your own, separate checking account then withdraw half of the funds in your joint account. Provide your spouse with notice of your actions so they are not surprised. 
Step No. 3 – Set Up a New E-Mail Account and Consider Purchasing a P.O. Box
In addition to opening your own checking account, you should set up a new e-mail account that only you have access to and consider opening a P.O. box at your local post office. Why? Because you want to ensure all correspondence concerning the divorce that is meant to be reviewed by you is not intercepted by your spouse. 
Step No. 4 – Collect and Maintain Copies of Critically Important Documents
A divorce will require compiling a series of documents to ensure all assets and liabilities are properly identified and addressed during the divorce proceedings. This is why you should take proactive steps to collect the following records and maintain a copy for yourself:
Mortgage statements and related documents
Credit card account statements
Pay stubs and tax returns
401(k) account statements
Car loan documents
Student loan documents
Compiling these records will not only prove useful during the divorce, but will help clarify your financial health going forward once the divorce is finalized. 
Speak to a Houston Divorce Lawyer Today
As you can see, there are important steps you can take right now to help expedite your divorce and improve the outlook of your post-divorce future. In addition to the steps described above, take the time to schedule a meeting with an experienced Houston divorce lawyer to discuss your legal options. The law firm of Lindamood & Robinson, P.C. is ready and able to help. Contact our office today to schedule an in-person consultation.
Resource:
consumer.ftc.gov/articles/0155-free-credit-reports