How Do You Add A Father To A Child's Birth Certificate In Galveston County, Texas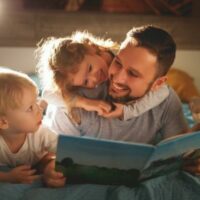 Most parents want the father's name on a child's birth certificate. For married couples, the process of adding a father's name on the birth certificate is relatively straightforward. It can be done at the hospital—just the same as the mother's name. For unmarried couples, there are some additional challenges. Paternity must be established. In this blog post, our Galveston County paternity lawyer explains the key things to know about adding a father's name to a child's birth certificate in Texas.
You Must Establish Paternity Before Adding a Father's Name to a Child's Birth Certificate 
A married man is automatically presumed to be the legal father of his wife's child in Texas. In effect, this means that no action is required to establish lawful paternity. A married father has immediate parental rights and parental responsibilities. For this reason, a married father's name can be added to a child's birth certificate right away. Unmarried fathers must establish legal paternity before they can be added to a birth certificate in Texas. There are three basic ways for unmarried fathers to establish legal parentage in Texas:
Voluntary Acknowledgment: In Texas, unmarried parents can jointly complete and submit a voluntary acknowledgment of paternity form. This is the easiest way to prove paternity. As long as the form is submitted by both parents, it is sufficient.
DNA Test: If there is some question of parentage for a child, genetic testing may be appropriate. Either a mother or a father can seek an administrative order for DNA testing of a child to determine paternity.
Court Order: In some cases, paternity disputes in Texas go to court. A court order of paternity will suffice to establish paternity. Notably, genetic testing will likely occur as part of the court case. 
Complete and Submit an Application for a New or Corrected Birth Certificate
Once unmarried parents have established paternity, they have the option of adding the father's name to the child's birth certificate. While not required by law, many parents would like to have the child's legal father listed on the birth certificate. There are two different forms to get a father's name added to a birth certificate in Texas:
Initial Birth Certificate: Texas Birth Certificate Application.
Correcting or Updating an Existing Birth Certificate: Texas Application Correcting a Birth Certificate.
In other words, a father's name can be added to an already existing birth certificate in Texas if paternity has been established via voluntary acknowledgment, genetic testing, or a court order.
Call Our Galveston County, TX Paternity Lawyers for Help
At Lindamood & Robinson, P.C., our Texas family law attorneys have the professional skills and legal expertise to handle all types of paternity cases. If you have any questions about adding a father to a child's birth certificate or paternity in general, we can help. Give us a call or contact our family law team online to arrange your confidential consultation. Our family lawyers represent clients throughout Galveston County, including in Texas City, Baytown, and Friendswood.