How Should I Serve Divorce Papers In Galveston County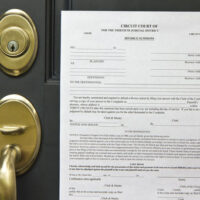 Are you preparing to end your marriage in Galveston County? To get a divorce, there are certain legal and procedural requirements that you will follow. Among other things, this includes the service of divorce papers. Here, our Galveston County divorce lawyer provides a comprehensive overview of the most important things to know about serving divorce papers in Galveston County.
Service of Process: Explained 
Service of process is the legal term used to describe the delivery of legal documents such as a summons or complaint to a defendant or respondent. In the context of filing for divorce in Galveston County, Texas, service of process refers to the delivery of the divorce petition to the spouse who is being served. This is a necessary step in the divorce process as it informs the spouse that a divorce has been filed against them and gives them an opportunity to respond.
 Texas Law: Only Certain Parties Have Authority to Serve Legal Papers 
The person filing for divorce in Texas must serve the petition on their spouse. Does that mean that you can just show up and hand over the papers. The answer is "no." Under Texas law (Texas Rule of Civil Procedure 103), divorce papers must be served by a constable, sheriff, or other person authorized by the court or by law (a private process server). It is best to make sure that your divorce papers are served in the proper manner. A case cannot move forward without service of process.
 Service is Easy With an Uncontested Divorce—Spouses Can Work Together 
When both parties in a divorce case are in agreement on the terms, it is known as an uncontested divorce. In these cases, service of process can be relatively easy as the spouses can work together to ensure that the necessary legal documents are delivered to the correct person. Instead of hiring a process server or going through the court system, the spouse being served can simply sign an acknowledgement of receipt, which can then be filed with the court. This not only saves time and money, but it also allows for a smoother and less contentious divorce process. In other words, process service is not an issue if both parties are willing to sign an acknowledgment.
 What are My Options If My Spouses Dodges Divorce Papers or Cannot Be Located? 
If your spouse dodges or cannot be located after you have attempted to serve them with the divorce papers, there are a few options available to you under Texas law, including:
Publication Service: This is a method of service where notice of the divorce is published in a newspaper of general circulation in the county where the divorce is filed. This is typically used as a last resort when the whereabouts of the other spouse is unknown.
Substituted Service: This is a method of service where the divorce papers are given to someone at the last known address of the spouse, such as a family member or friend, with the understanding that they will pass the papers on to the spouse.
Order of the Court: If you have made a good faith effort to locate your spouse but have been unsuccessful, you can ask the court to allow service by alternative means, such as email or social media.
These options help to ensure that a person cannot refuse or hide from divorce papers in order to thwart the process. You may be able to seek a default judgment if your spouse refuses to engage.
 Get Help From Our Galveston County Divorce Attorney Today
At Lindamood & Robinson, P.C., our Texas divorce law attorneys are devoted to helping our clients navigate the legal process so that they can set themselves up for the best future. If you have any questions about serving divorce papers, we can help. Contact us today for your consultation. Our firm serves communities throughout Galveston County, including in Texas City and League City.
Source:
casetext.com/rule/texas-court-rules/texas-rules-of-civil-procedure/part-ii-rules-of-practice-in-district-and-county-courts/section-5-citation/rule-103-who-may-serve