How Will Our Living Situation Be Handled During the Divorce Process in Texas?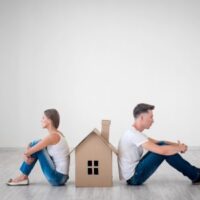 Going through a divorce is hard—and, in some cases, it can be a time-consuming process. With a high-conflict divorce, it often takes several months or even more than a year to finalize a separation. This raises an important question: How is a living situation handled while a Texas couple's divorce is still pending? The short answer is that the parties can work things out on their own—though they may want (or need) temporary court orders. Here, our Houston divorce lawyer provides a more comprehensive overview of the most important things that you should know about how your living situation will be handled while a divorce is pending in Texas.
A Divorcing Couple Can Work Out their Living Situation On their Own 
When a couple in Texas decides to divorce, they are not required by law to immediately live separately. Often, however the parties should separate if the stress or the risk of an altercation is created by staying in the same residence.  The children should not witness arguing and extreme emotional reactions caused by staying together.  Some couples choose to remain in the same home during the divorce proceedings. You are not required to obtain a formal court order to handle your living situation while a divorce is pending. You have the right to work things out on your own.
A Temporary Order May Be Desirable or Necessary
A Temporary Order may be reached as a result of an informal agreement, by mediation, or by a Court making a ruling on the evidence.  The purpose of the Temporary Order is to establish rules that govern each party's life and the children's life while the case is pending.  The temporary order will end when the divorce is granted.  Temporary orders can help a divorcing couple maintain stability and limit conflict while a divorce is still pending.
An Overview of Common Issues that May Be Addressed With a Temporary Order 
In a Texas divorce case, a wide range of different issues can be addressed with a temporary order. Along with other things, you can use a temporary order to handle issues related to:
Child Custody and Visitation: A temporary order can outline who the children will live with and the visitation schedule for the noncustodial parent. This helps ensure the children's lives are disrupted as little as possible during the divorce process.
Spousal Support: The court may order one spouse to provide financial support to the other during the divorce process. This ensures that both parties can maintain their standard of living.
Payment of Debts and Expenses: A temporary order can determine who will be responsible for ongoing expenses, such as mortgage payments, utilities, and credit card debts, until the divorce is finalized.
Use and Possession of Property: The court might specify which spouse can remain in the marital home and use other significant marital assets.
Injunctions: Finally, the court can put restrictions on behavior, like prohibiting a spouse from selling assets, taking the children out of state, or harassing the other spouse.
 It may be beneficial to consult with an Attorney – Before you separate from your spouse
At Lindamood & Robinson, P.C., our Houston divorce lawyer is standing by, ready to protect your rights and interests. If you have any questions about temporary orders and divorce, we are here to help. Contact us now for a strictly confidential initial family law consultation. With a legal office in Houston, we provide divorce representation throughout all of Southeast Texas.