Is Your Vacation Within the Boundaries of Your Child Custody Agreement?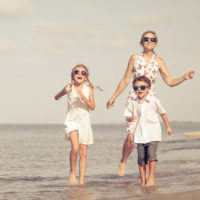 Summer is a time of family vacations, but if you have a child custody agreement that governs where your children are supposed to be you need to ensure that you are handling your vacations, summer time or not, in the proper manner. Before you head out on your next excursion, be sure to take into consideration how you can increase your child's enjoyment, keep your ex informed of your plans, and minimize the stress for everyone involved.
Keep Your Ex in The Loop
Even though your ex may not be entitled to know the whereabouts of your child during your vacation according to your divorce decree, it is still a good idea to let them know what you are doing. This doesn't mean you have to share every detail, but at least give them the dates that you will be gone and where you will be going.
Double Check Your Custody Agreement
Before you make your reservations, be sure that your plans are within the custody agreement boundaries. There could be stipulations about where you can travel, or notification requirements for letting your ex or the court know your plans. If the travel includes leaving the country, there could be even more requirements such as putting up a bond before you leave.
You will likely be free to travel out of state without your ex's permission, unless your custody agreement specifically states otherwise. Relocation, however, is when you are actually moving out of state and is not just a vacation. Relocation to another state is often prohibited without a change in the child custody plans. Although you aren't required to have your ex's permission, it is always a good idea to give them a heads up, and if your ex is vindictive, you may want to be sure you give him notice of your plans in writing so you have proof that he knew your plans.
Discuss Your Plans with the Kids
If your kids are old enough, let them have a say in things when you are making the plans. This will ensure that they get to experience things that they will enjoy. Letting them know what the plans are before you leave can also help reduce any concerns that can occur due to a scheduling change.
Another thing to keep in mind is that a vacation should never be a competition of trying to outdo your ex. Instead, focus on the time you have with your children and enjoy the adventure. Children love to relive the fun moments they experience, so be sure that you are helping them gather plenty of memories on the vacation. This could be something as simple as taking lots of pictures or buying a few small souvenirs. Be sure you let your kids contact your ex during the trip too so they can still have the opportunity to communicate with them as well.
Contact an Experienced Texas Family Law Attorney Today
If you have questions about whether you can take your child on vacation or not or are having other child custody disputes, contact the Houston child custody attorneys at Lindamood & Robinson, P.C. today. We have years of experience ensuring our clients get visitation with their children the way they deserve. Contact us today to schedule a consultation.
https://www.lawcl.com/interference-with-child-custody-orders-in-texas/