Little Known Rules and Guidelines of Texas Divorce Law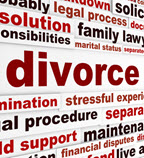 Some people mistakenly believe that filing for divorce in Houston is simple. In reality, divorce law in Texas is quite complex with an array of rules and regulations that must be adhered to in order to obtain a legal divorce.
For example, to be able to file for divorce in Texas, either you or your spouse needs to be a resident of the state for at least six months prior to filing. Furthermore, you or your spouse needs to have resided in the county where the petition is filed for at least 90 days prior.
If you or your spouse is pregnant, you may need to wait even longer to file for divorce. Why?
Because many Texas courts will not finalize a divorce if the wife is pregnant, even if the baby was fathered by someone else. Courts generally wait until the baby is born so their best interests can be taken into consideration. 
60-Day Waiting Period
From the date your petition is filed, there is a 60-day waiting period before a judge will grant a final divorce decree. An exception to this waiting period is if there is evidence that your spouse was convicted of domestic violence offense against you or someone in the household. 
Must Wait Before Getting Married Again
Once a final divorce decree is entered by a judge, you cannot turn around and marry someone else. In fact, neither party is legally allowed to may marry again until 31 days has passed since the divorce decree was entered by the court. 
Specific Grounds for Divorce
When you file for divorce, you have to declare a specific basis, or ground, for the divorce. In Texas, there are seven statutory grounds for divorce. Six of the seven grounds require a finding of fault by you or your spouse. The only exception is the "insupportability" ground which is considered the "no-fault" option. Below is a summation of the seven grounds for divorce:
One of the parties committed adultery;
If the marriage has become insupportable due to discord or conflict that destroyed the legitimate ends of the marital relationship;
Cruelty by one spouse towards the other (e.g., domestic violence);
You or your spouse was convicted of a felony and is imprisoned for at least one year in a state penitentiary, federal penitentiary, or another state penitentiary.
You were abandoned by your spouse for at least one year, or vice versa;
You and your spouse lived apart without cohabitation for three years or more; or
Your spouse was admitted to a mental hospital (state-run or privately run) for at least three years and it appears that the mental affliction shows no reasonable signs of changing.

Contact a Houston Divorce Lawyer Today
As you can see, getting divorced can get complicated very quickly. This is why you should retain the services of an experienced Houston divorce lawyer. Contact Lindamood & Robinson, P.C. in Houston today so you can schedule an appointment with one of our lawyers to discuss your legal options.
Resource:
statutes.legis.state.tx.us/Docs/FA/htm/FA.6.htm