Protective Orders for Domestic Violence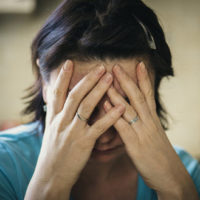 Divorce and child custody proceedings can be difficult and emotional proceedings that can result from a number of situations, unfortunately including violence within the family. Protective orders are available to ensure an individual's safety from another using a civil court order in order to prevent acts of domestic violence, sexual assault, trafficking and stalking against that person. Protective orders classify as domestic violence are those acts conducted by a family member or member of a household who intends to physically harm another, an member who gives a serious threat of physical harm, or who abuses a child. A family member does not have to be one you are related to; it can be one by marriage, former spouses, stepparents, foster parents or children.
Dating Violence
Protective orders are not just available to those who are married or formerly married; Texas also recognizes dating violence. A judge will consider the length of the relationship, its nature and the type of interaction experienced between the parties involved in the relationship when determining whether it was a dating relationship qualifying as dating violence. The same acts such as intention to physically harm, or the threat thereof are seen as reason to provide a protective order to a party who is in a compromised dating relationship.
Who Can File?
There are certain parties that can apply for a protective order. Although you may know someone you think should obtain a protective order, you cannot do so on their behalf. An adult member of a home or of the family may apply for protective orders, as well as an adult who is seeking protection of a child, which does not have to be their own, a prosecuting lawyer on behalf of the state, as well as the Department of Human and Regulatory Services.
Will They Be Removed From the Home?
Every family has their difficulties, however, some situations warrant removal if violence is occurring. In the event the potential abuser is also in the home in which the abused resides, the abuser may be removed if the home is jointly leased or owned by the abused individual solely; or, if the home is owned by the abuser, if he or she has an obligation to support you or your child, you may be able to obtain exclusive possession.
Are You Thinking about Filing for a Protective Order?
If you or someone you know is seeking a protective order due to the violence of a partner, you have rights to pursue legal recourse. You do not have to continue suffering in an abusive relationship. Please do not hesitate to call the experienced lawyers at Lindamood & Robinson, P.C. today in our Houston office at 713-654-2112, or simply reach out using our website and we will contact you.
Resources:
texaslawyergeneral.gov/cvs/protective-orders
womenslaw.org/laws_state_type.php?id=592&state_code=TX