Six Signs That Your Family Law Case Is A Good Candidate For Mediation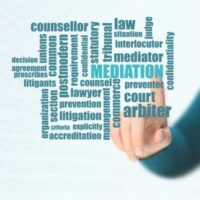 The Texas family code describes mediation as a structured process through which an impartial person helps parties to a dispute by promoting "reconciliation, settlement, or understanding among them" (Sec. 154.023). For a number of different reasons, there are advantages to mediation for family disputes. While not the right path forward for everyone, mediation can work in many family cases—from divorces to custody battles. Here, our Houston family mediation lawyer offers six signs that indicate your case may be a strong candidate for mediation.
You Want to Save Time 
Litigation can be a long process. In contrast, mediation can move things along far more quickly. If you are looking to resolve your family law case in a more time-efficient manner, mediation may be the right option for you. Mediation typically takes less time than litigation, as you can schedule sessions at your convenience and avoid court schedules. 
You Want to Save Money 
Mediation also offers the potential of significant financial savings. As a general rule, mediation is a lot cheaper than litigation. If you can resolve a divorce, custody dispute, or other family law case through mediation, it opens up the potential for cost savings for all parties involved. 
Preserving Relationships is Important 
If preserving relationships is important to you, mediation is a good option. The mediation process is great for parents of young children. As meditation helps you and your co-parent or spouse communicate more effectively, leading to a resolution that both parties can agree on. 
There are Complex Issues that Must Be Resolved 
If your family law case involves complex legal and financial issues, mediation may be a good option. A mediator can help navigate these complexities and ensure that everyone's concerns are addressed. Do not assume that you will not be able to resolve a complex dispute with the help of family law mediation.
You and Your Spouse/Co-Parent Work Better With Structure 
Although it is far more flexible than litigation, mediation is still a stored process. If you and your spouse or co-parent work better with structure, mediation may be a good option. Among other things, the family law mediator will set a clear agenda and create a framework for discussion, which can help keep the conversation focused and productive. 
There is a Potential Path to a Settlement
Finally, mediation is often a good choice for cases in which the parties see a potential path towards a settlement. If you think that there is a realistic chance for common grounds and a mutually agreeable settlement in your family law case, you should strongly consider mediation.
Get Help From Our Houston, TX Family Mediation Attorneys Today
At Lindamood & Robinson, P.C., we have mediated more than 750 family law cases in Southeast Texas. It is our mission to provide reliable, solutions-driven services to clients. If you have questions about family mediation, please contact us to arrange a fully confidential case review. From our offices in Houston and Galveston County, we provide mediation services throughout the area.
Source:
statutes.capitol.texas.gov/Docs/CP/htm/CP.154.htm