Texas Divorce and Special Needs Children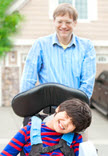 Texas law allows residents to divorce for a variety of reasons, but in all cases, a 60-day waiting period after filing applies. The waiting period begins after the initial divorce petition is filed, which requires that the couple reach an agreement or that the court rules on such issues as:
Grounds for divorce;
Division of debt;
Division of all marital property, including investments;
Child custody; and
Child support and spousal maintenance payments.
To ensure an equitable agreement and the quickest possible finalization, it is wise to hire an attorney who can guide you through the process. This is particularly true if your child has special needs and you and your spouse do not agree on custody, child support, alimony, or any combination thereof.
Custody of Special Needs Children 
As in any custody case, the court will take into consideration what is in the best interest of the child when awarding custody. When your child has special needs, those must also be factored into the decision, as it can be more physically, mentally, and emotionally taxing for a special needs child to move from home to home, as is typical in a joint custody arrangement. In particular, the court must consider:
What schedule will be most beneficial and least disruptive to the child;
Parental fitness to deal with medical and emotional needs; and
Daily care required.
Although his or her disability may make it difficult, the court will consider, when possible, the child's own preferences in making a custody ruling. Ultimately, though, the court will rule in favor of the best interest of the child, whether or not the child agrees.
Supporting Special Needs Children 
Child support and alimony arrangements always take into account the children and their custody. However, children with special needs can have a greater impact on the agreement than others. Spousal maintenance, or alimony, can be ordered or increased if the receiving spouse has custody of a child who;
Is the product of the marriage being dissolved;
Requires significant care and supervision as a result of a physical or mental disability; and
Requires such care that the spouse cannot make enough money to provide for basic needs.
Child support payments may be larger than are typical in order to allow for care and services for the child. The primary consideration during divorce proceedings, however, should be providing for the child with special needs after he or she turns 18. Texas law does allow for continuing child support if the child will remain unable to function without personal care and supervision, even as an adult. This requires a disability that impacts the child's ability to:
Move;
Speak;
Function generally;
Problem solve; and/or
Make sound judgments on daily matters.
These abilities could be impaired by any number of physical, cognitive, or emotional disability. Although continuing payment can be arranged after the child reaches 18, it is much simpler to include the provision for ongoing support in your original divorce agreement.
Contact an Attorney 
Contact the experienced Houston divorce attorneys at Lindamood & Robinson, P.C., today to ensure that your child and his or her needs are fully considered and provided for in your divorce proceedings.
Resource:
https://statutes.capitol.texas.gov/Docs/FA/htm/FA.6.htm