Approaching, Making, and Breaking a Prenuptial Agreement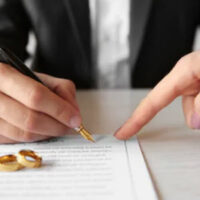 Until recently, a web of complex state laws and local rules controlled prenuptial agreements. Requirements varied significantly not only among different counties, but also among different judges in the same county. As a result, only super-rich couples bothered with prenups, and the entire procedure cast a shadow over a marriage.
Then, Texas lawmakers approved the Uniform Premarital Agreements Act, and everything changed. The UPAA streamlined the different laws and rules, thus eliminating the complexity associated with drafting a premarital agreement. Additionally, the UPAA standardized the rules for breaking a prenup, so results are more consistent.
About two dozen other states have also adopted the UPAA. Therefore, when couples cross state lines, their prenuptial agreements often remain in force. Furthermore, this simplification makes it easier to broach the subject with a bride or groom-to-be.
Because of all this, Houston family law attorneys have seen a significant uptick in the number of couples wanting premarital agreements. In as little as one office visit, an attorney can draft a solid premarital agreement. It's also just as easy to review unfavorable pacts and fully apprise challenging spouses of their legal and financial rights.
Talking About a Prenup
Premarital agreements help couples plan for the unexpected. No one wants or expects to die early. But responsible people still buy life insurance policies, so they are more prepared for the unexpected and unwanted.
Similarly, no one wants or expects to get divorced. A premarital agreement is like a divorce insurance policy if the unwanted and unexpected occurs.
Additionally, prenuptial agreements make marriages stronger. Money is one of the leading causes of marital strife. Premarital agreements remove money from the equation. So, this issue never has a chance to poison your relationship.
This aspect of premarital agreements is particularly attractive to Millennials. Many of these people are children of divorce, so they are willing to look at anything that makes their marriages more solid.
Making a Prenup
Money matters usually dominate premarital agreements. These pacts often include spousal support caps. These agreements usually address property division and property management issues as well.
There's more. Divorce cuts off inheritance rights, in most cases. Premarital agreements are the best way, and sometimes the only way, to alter this outcome. So, if you have been married before, especially if you have a family business, you should at least consider making a premarital agreement.
Child custody and child support are essentially the only off-limits areas. These issues must reflect the best interests of the children as opposed to the best interests of the parents.
Breaking a Prenup
Attorney-drafted premarital agreements are solid, but they are not ironclad. In some cases, challenging spouses can overturn unfavorable premarital agreements. There is no limitations period. The challenge could come two months or two decades after the signing.
Involuntary: Typically, agreements are involuntary if challenging spouses did not fully know what they were signing. These spouses must prove the other spouse withheld information, the data was critical to the prenup, and the information was unavailable elsewhere. Extreme pressure to sign might also make an agreement involuntary.
Unconscionable: A disproportionate award is uneven. An award like "I get all the assets and you get all the debts" is unconscionable. Additionally, challenging spouses must show the agreement was unconscionable when it was made. If the agreement seemed like a good deal at the time, the unconscionability argument is unavailable.
Prenuptial agreements typically have severability clauses. If a judge invalidates one part, the rest remains in effect.
Reach Out to a Diligent Lawyer
Premarital agreements have concrete benefits for your new family. For a confidential consultation with an experienced Houston family lawyers, contact Lindamood & Robinson, P.C., Attorneys at Law. After-hours visits are available.
https://www.lawcl.com/top-three-evidence-based-grounds-for-divorce-in-texas/