Divorce After 50? What You Need to Know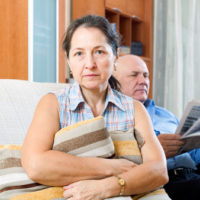 Many people are aware that the divorce is fairly high throughout the nation. Indeed, in Texas, there were approximately 4.7 divorces per 1,000 Texans, according to the Texas Office of Court Administration.
In terms of the national numbers, the trends indicate that second and third marriages have a much higher divorce rate relative to first marriages. For example, approximately 41 percent of first marriages end in divorce while 60 percent of second marriages end in divorce, according to the U.S. Census Bureau. Shockingly, around 73 percent of third marriages end in divorce. The average length of a marriage is eight years before a couple opts to get a divorce.
When a couple decides to get divorced, it can be a stressful, difficult experience, both for the couple and their loved ones (e.g. children, relatives, etc.). When an older couple (i.e. older than the age of 50) decides to get divorced, it can be especially difficult and even shocking to many people. In many instances, these are couples who have been married for decades deciding to file for divorce. 
Divorce Rates for Couples Over the Age of 50 are Skyrocketing
The AARP reported that despite overall divorce rates decreasing since the early 1990s, the rate of divorce for couples older than the age of 50 has actually doubled.
No one can say for sure why the number of "gray divorces" has spiked in recent years. Some speculate it has to do with a couple waiting until their children have grown and moved out to ultimately get divorced. This makes sense considering some spouses discover that they want to pursue different things and life goals after their kids leave the home. for their own empty nests. Others speculate that the cultural shift of being more accepting of divorce is contributing to a higher percentage of older couples deciding to move forward with a divorce. This also makes sense considering divorce was essentially taboo in the 1940s and 50s. 
Different Considerations with a 50+ Divorce
When a younger couple decides to get divorced, the primary focus is often in family issues such as custody of the children, child support and alimony, and co-parenting. When an older couple gets divorced, child care is oftentimes irrelevant. The primary concerns are financial issues and long-term care issues. For example, assets that are often quite relevant in a 50+ divorce include:
401(k) retirement accounts
Pension funds
Social Security benefits
Alimony
Marital assets such a primary home, vacation home, and vehicles
Stocks and mutual fund accounts
Long-term care insurance
Estate planning matters including amending named beneficiaries and medical power of lawyer
Investments in property and other businesses
As you can see, a 50+ divorce is going to require extensive financial accounting and a thorough detailing of financial assets and liabilities. 
Contact an Experienced Houston Divorce Lawyer Today
The experienced Houston divorce lawyers at Lindamood & Robinson, P.C. are ready to help you through your divorce. Our law firm handle all types of divorce cases including contested divorces involving significant estates to simple uncontested marriage dissolutions based on mutual agreement. Contact our office today.
Resources:
txcourts.gov/media/
census.gov/topics/families/marriage-and-divorce.html