Financial and Emotional Issues in a Grey Divorce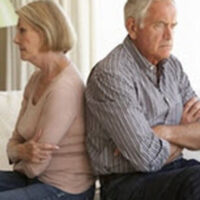 As recently as the 1990s, divorce's moral acceptability rate was barely more than 50 percent. Today, that figure is close to 80 percent. What does that mean for divorce over 55, or so-called grey divorce? It means that more people than ever, including folks over 55, see marriage dissolution as a legitimate way to end an unsatisfying relationship.
Higher life expectancy also contributes to the grey divorce phenomenon. Many people remain quite active into their 70s and even 80s. The prospect of spending these active years in an unfulfilling relationship is quite bleak for many people.
When couples in this age group divorce, some unusual financial and emotional issues often arise. A good Houston family law attorney must be prepared to deal with these issues. Solid preparation helps attorneys resolve even rather bitter divorce cases out of court. These resolutions save money and prevent emotional wounds from becoming deeper.
Financial Issues
Most divorces involve retirement accounts and home equity. If at least one spouse is over 55, these two combined assets could be worth hundreds of thousands of dollars.
In Texas, all assets, including money in a retirement account, which were acquired during the marriage are community property. That usually means a 50-50 retirement account division between the owner and non-owner spouse. Depending on a particular plan's rules, non-owner spouses generally have three options with their new shares:
Do nothing (that includes not making any further contributions) and receive proportionate payouts when the owner spouse retires,
Cash in the shares and pay a financial penalty, or
Move the shares into a new retirement account where they have complete control over all aspects of the account.
Depending on the facts of the case, any of these three things could be a legitimate alternative.
Generally, the cleanest and easiest way to divide home equity is to sell the residence and divide the proceeds. But there are exceptions. Perhaps the housing market is depressed at the time or perhaps the couple has minor children at home.
So, an equity partition lien might be better. One spouse receives title to the house and the other spouse receives a lien for his/her share of the equity. The divorce decree could give the owner spouse the power to sell the house or order a sale at a certain time, perhaps when the youngest child turns 18.
Then, when the house is sold, that lien must be paid. An attorney should ensure that the lien accounts for the value of the shared equity as well as interest income.
Emotional Issues
Frequently, adult children cut off visitation between the parent they "blame" for the divorce and the grandchildren. If that happens, and the grandchildren lived with the grandparent for at least six months, the grandparent can petition the court for visitation. That visitation is usually one weekend a month.
The six month rule is not nearly as straightforward as it appears. Assume Sondra, Elvin, and their child move in with Cliff and Clair. They stay for six months. During this time, the elder Huxtables pay all the bills and actively care for Sondra's baby. Arguably, the young Tibideaux "lived with" Cliff and Clair, even though they did not have legal custody.
If Cliff and Clair divorce and one of them petitions for custody, the judge might grant the request if the visitation is in the best interests of the child.
Connect with an Effective Lawyer
Divorce over 55 involves some unique issues. For a confidential consultation with an experienced Houston divorce lawyer, contact Lindamood & Robinson, P.C., Attorneys at Law. Convenient payment plans are available.
Resource:
statista.com/statistics/218524/americans-moral-stance-towards-divorce/
https://www.lawcl.com/what-to-expect-in-a-harris-county-marriage-dissolution-case/