Getting Divorced and Having a Special Needs Child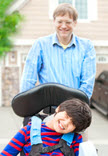 According to a recent U.S. Census study, 54.4 million Americans (which equates to about one in five U.S. residents) have a disability. The number of children and youth between the ages of 3 and 21 receiving special education services was 6.6 million, according to NCES.gov. Among children and youth that received special education services, 35 percent had specific learning disabilities.
This means thousands of couples contemplating divorce also need to factor in the future care and treatment of their child, post-divorce. One of the biggest factors is deciding custody and calculating the amount of financial support that will be necessary to ensure the child receives proper medical care, educational assistance, etc. 
Detailed Divorce Agreement is Essential
In structuring a divorce agreement where the divorcing couple has a special needs child, a thorough review and examination of the proposed visitation arrangements, estate planning and the future of the child when they become a legal adult must be considered. Issues such as guardianship, eligibility for accessing Social Security Disability Benefits and other government or charitable benefits, employment, independent living, and custodial care all need to be addressed. 
Addressing Unique Aspects of Special Needs Child Support
Many courts rely on child support tables to reach a reasonable amount that will be provided by the non-custodial spouse in the form of child support. Unfortunately, these tables often do not address the extra expenses associated with a special needs child such as specialty medical care, non-prescription treatments, and so forth. Your Houston divorce lawyer should consider retaining the services of an experienced financial advisor to assist in drafting the divorce agreement so the financial impact of the divorce and the child's financial well-being are properly investigated and addressed. For example, it may make more sense to set up an in-kind form of child support because child support payments made directly to the custodial parent is treated as income. This could then hinder the child's ability to qualify for means tested government benefit programs like Medicaid and Social Security Disability. 
Factors Considered by a Texas Court in Determining Custody
The overarching concern of a court when assessing custody is the "best interests of the child." This is especially critical when the child has special needs. Some of the factors taken into consideration include:
Assessing the child's special needs and how they affect their overall development (e.g., whether it is emotional or mental impairments, physical disabilities, etc.);
Assessing the availability of the parents to meet the child's special needs;
The relationship between the child and both of the parents; and
Assessing the best arrangement for the child in terms of consistency of care, discipline, routine, and support.
There may be a need to retain expert witnesses to address specific questions raised by the judge assigned to your case.
Contact an Experienced Houston Family Law Lawyer Today
As you can see, the divorce process can get quite complicated when a special needs child is involved. This is why you should hire an experienced Houston domestic relations lawyer to help you through this complex process. The lawyers at Lindamood & Robinson, P.C. are here to help.
Resource:
nces.ed.gov/programs/coe/indicator_cgg.asp