Pets as Family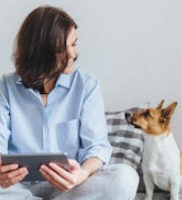 Approximately 68 percent of households in the United States own at least one pet. Many people consider their pets to be part of the family, and it shows. Pets are making their way into family photo shoots, weddings, and even birth announcements. This close bond with pets can make determining pet ownership in case of divorce particularly difficult, but there are ways to simplify determining pet ownership.
Agreeing on Pet Custody and Visitation 
The simplest path to determining ownership, or custody, of your pet after divorce is to consult the terms of your prenuptial agreement, if applicable, which will eliminate the need to work toward a suitable arrangement, since the terms of the premarital agreement are legally binding.
However, if you have not put your pet ownership plan in writing, you can still come to an agreement with your spouse prior to your divorce. A written agreement on ownership of the pet, which can include shared custody or visitation, can be included in your divorce proceedings and upheld by the court. This agreement may include:
Primary ownership
Visitation rights and schedules
Payment for various costs of ownership
Emergency contact guidelines
Keep in mind that this agreement will be legally binding, so be certain that you are comfortable with the agreement and consult an attorney in its construction to ensure that you understand the terms.
Court Awarded Pet Ownership 
In some cases, you may be unable to reach an agreement with your spouse and will have to allow the court to decide the issue of pet ownership. Under Texas law, pets are considered property, which means that pets acquired prior to the marriage will be awarded to the spouse who originally owned the pet. If the pet was acquired during the marriage, the court will not generally arrange for custody or visitation for pets. Instead, if you do not reach an agreement with your spouse prior to your court date, the judge will treat the pet like any other property. The court will assign a value to the pet and award to pet to one spouse as part of the division of assets. When considering which spouse will receive ownership of the pet, the court will consider many factors, including:
Ability to care for the pet
Work and travel schedule
Current responsibilities in caring for the pet
Treatment of and relationship with the pet
Custody of any children and their relationship with the pet
You will want to document and provide as much proof as possible of your part in caring for the pet, your relationship with the pet, and your continued ability to care for the pet after the divorce. Your attorney can assist you in determining what evidence may be useful in obtaining ownership of your pet in court.
Contact an Attorney 
If you are preparing to divorce, contact the Houston divorce attorneys at Lindamood & Robinson, P.C. We will work to ensure that your rights and possessions are respected in the divorce process, including assisting with access to your pets.
Resource:
iii.org/fact-statistic/facts-statistics-pet-statistics
https://www.lawcl.com/texas-divorce-and-special-needs-children/