Why You Might Want to Consider Mediation If You're Facing Divorce in Texas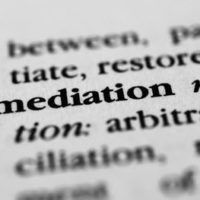 If you are considering divorce, you have likely thought about all of the difficulties and issues that might arise as a result. One of the things that you might not have considered is that if you end up in court, all of your so-called "dirty laundry" could end up getting aired to the public. However, there might be a better way to settle your divorce without going to court – mediation.
What Is Mediation?
Mediation involves the two parties working together with the assistance of an impartial third party, or mediator, to come up with solutions to the issues at hand. The mediator acts as a referee of sorts during the proceedings. The mediator doesn't actually make any decision on behalf of the couple and cannot make either party accept a settlement of any kind.
Rather than making decisions for the couple like a judge would, the mediator works with the couple to create a settlement that will work with both of their lifestyles and meet their needs. Each party is able to make suggestions and the mediator helps them find common ground.
How Mediation Helps with Divorce
The state of Texas, in most divorce cases, will encourage divorcing couples to make an attempt at mediation to settle visitation and child custody disputes before taking the case to the courts for a judge to decide. This doesn't mean that the couple is required to settle during mediation proceedings.
Mediation can also be helpful even if children aren't involved. It can help a couple settle their financial matters privately and reach a settlement for property division. This can help them ensure that property is divided equally and will work for the two well into the future. For example, if one party wants to keep the marital home, the other may be willing to give up part of their spouse's income to keep the home. Mediation often allows options that might be considered more unorthodox than traditional property division.
Mediation During Visitation and Child Custody Disputes
Mediators can be extremely helpful when divorcing parents are attempting to settle custody disputes involving their children. The mediator will remain impartial and listen to the arguments from both sides, then help the parties find a solution that will be the best outcome for both parties as well as the children involved.
The mediator will also help remind the parties that their children should be the priority when making a decision. They will help the couple understand how various parent plans and custody options will impact the children and guide the parents to a decision that will fare well for the future of the children. The mediator will always make sure that the child's best interests are met.
Contact a Mediation Attorney Today
If you are facing disputes in your divorce and prefer to keep matters private and out of the public eye, mediation is a great option. The mediation process can help parents get their co-parenting relationship off to a great start, and can help couples without children resolve their issues in privacy. The Houston attorneys at Lindamood & Robinson, P.C. have years of experience helping their clients through divorce, parenting issues, and mediation. Contact us today to schedule a consultation.
Resources:
xcourts.gov/1stcoa/practice-before-the-court/mediation-adr/
statutes.capitol.texas.gov/Docs/CP/htm/CP.154.htm